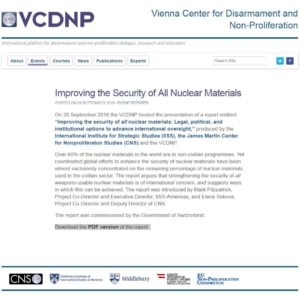 On 20 September 2016 the VCDNP hosted the presentation of a report entitled "Improving the security of all nuclear materials: Legal, political, and institutional options to advance international oversight," produced by the International Institute for Strategic Studies (IISS), the James Martin Center for Nonproliferaton Studies (CNS) and the VCDNP
.
Over 80% of the nuclear materials in the world are in non-civilian programmes. Yet coordinated global efforts to enhance the security of nuclear materials have been almost exclusively concentrated on the remaining percentage of nuclear materials used in the civilian sector. The report argues that strengthening the security of all weapons-usable nuclear materials is of international concern, and suggests ways in which this can be achieved
In addition to human corpus cavernosum smooth muscle, PDE5 is also found in lower concentrations in other tissues including platelets, vascular and visceral smooth muscle, and skeletal muscle. cialis prices Almost.
. The report was introduced by Mark Fitzpatrick, Project Co-Director and Executive Director, IISS-Americas, and Elena Sokova, Project Co-Director and Deputy Director of CNS
.
The report was commissioned by the Government of Switzerland.
---
Read the entire article on the website of the Vienna Center for Disarmament and Non‑Proliferation. Download the PDF version of the report.