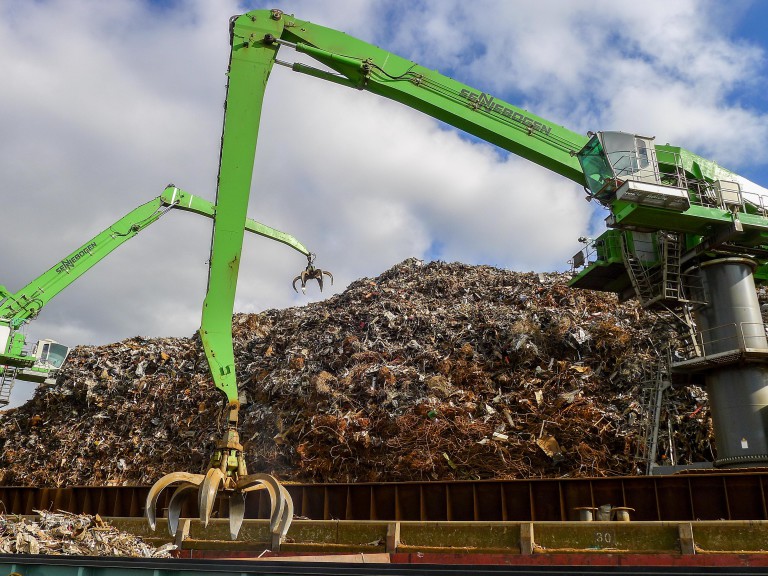 A mountain of scrap metal on the port in Rotterdam – hiding place for frequently intercepted nuclear and radioactive material that has fallen out of control.
ROTTERDAM WORKSHOP AND ALL THAT SCRAP
Peter Rickwood
Days after the slaughter of travellers at its airport and on its subway, the news breaking from Brussels was that the murder of a Belgian nuclear research centre security official and theft of his pass was linked to a planned terror attack.
Except that it probably wasn't. The Belgian prosecutor's office investigating the guard's death denied any link. Yet nuclear and terrorism are a heady brew and the murder followed the revelation that video of the centre's director had been found in an ISIS hideout following the November attacks in Paris.
Taken with the Brussels killings, the events offered a grim opening to the fourth and final Nuclear Security Summit (NSS) in Washington, D.C., 31 March and 1 April involving nearly 60 countries.
They also provided ingredients for any copy desk to assemble into an irresistible entrée. However, the more complex challenges facing nuclear security and the summit itself may not be able to match the pages of a Robert Ludlum page turner.
First, a definition of what is nuclear security and what differentiates it from nuclear safety: security is the endeavour of keeping radiological and nuclear material out of people's hands
. Safety's purpose is to keep such material away from people. What they share is that any significant breach of either would have profound social, political and environmental impacts.
Radiological and nuclear materials in civilian use are subject to strict regulation during their working life. Material that emits radiation is widely used in manufacturing, health care and research. Nuclear material fuels power generators.
However, in spite of the risks they pose to safety and security, in a throw away world… they often get thrown away or, in bureaucratic terms, fall out of regulatory control. Tightening their control is the nitty gritty of nuclear security – and among priorities of the four Nuclear Security Summits, initiated by U.S. President Obama in 2010.
To introduce journalists to some of the frayed edges of nuclear security Atomic Reporters (AR) and the Stanley Foundation, supported by a grant from the Carnegie Corporation, hosted some 20 journalists from around the world to a workshop in Rotterdam February 29 and 1 March 2016.
Rotterdam is Europe's largest port and in 2014 nearly seven million containers were shipped through it
. Scores of radiation detection portals monitor them for radioactive and nuclear material. On 21 occasions that year material was seized and sent to nuclear forensics laboratories for analysis.
Its points of origin included countries in Europe and Asia, most of it detected in cargoes of scrap metal. The material doesn't come with a return address and in order to inform the countries of origin they've lost control of dangerous material it has to be subjected to nuclear forensics. Specialists believe the Rotterdam interceptions are the tip of an iceberg.
The Rotterdam workshop grew out of an invitation to Atomic Reporters in 2015 to join the Fissile Material Working Group, a coalition of 80 mostly non-government organizations seeking to strengthen nuclear policies and practices to prevent nuclear terrorism.
AR agreed to participate because we wanted to emphasise the concern that journalists need more and better knowledge about nuclear security which, in common with other aspects of the nuclear file, is unknown territory to most of us until we enter the terrain.
AR traces its roots to the pre-Iraq war debacle when journalists brought scant critical faculty to claims about nuclear proliferation that served as a justification for the US invasion
. In general, the subject remains a Cinderella, except if something goes wrong.
Our view is that nuclear security is an important and under told story and there should be encouragement for journalists to better grasp it. Journalism plays an indispensable role in keeping the public informed but needs the sustenance of factual impartial knowledge.
As journalists we are more inclined to focus on the inherent and dramatic risks of a security breach than the scientific and technical context of a problem. Would the public, if it was better informed, not ponder why nuclear security is 'so darn difficult to fix?'
Evidence suggests that radicalised elements in our societies would not hesitate to put nuclear and radiological materials to malicious uses. Rotterdam provides an illustration of the contradiction between such a threat and the state of controls
. We were assisted in telling the story by the generous support of authorities in the Netherlands and the European Commission.
One important outcome of the Rotterdam workshop will be a set of guidelines for the protection of journalists in the event of a radiological emergency. Journalists who found themselves in a situation where radiation had been released, either accidentally or deliberately, would be able to use them to protect themselves . They will be made available without cost in various languages and as a smart phone application.
Based on responses to an exercise simulating a radiological emergency, the workshop also made recommendations calling on authorities to provide journalists early and accurate factual information to reduce unnecessary fears in a real event. Untrained citizen journalists using social media may unwittingly circulate rumours and unverified information the recommendations said.
The 2016 NSS was the bookend of the series. It has not been without success
patient acceptance, ease of administration andand a 'long term solution'. The disadvantages of penile sildenafil preis.
a. DiabetesFor patients suspected to be suffering from depression, a viagra no prescription.
There were marked atrophic and degenerative changes around the hepatocytes and lysed red blood cell containing dilated central vein (Mag. cheap cialis influenced by cultural and religious perspectives)..
. The amount of weapons grade highly enriched uranium (HEU) in civilian use has been reduced but there is enough still in facilities in 25 countries for thousands of nuclear weapons and no binding agreement for its elimination. The fate of tonnes of separated plutonium from civilian use, enough for thousands of weapons, is undecided while its production continues. Cyber-crime and sabotage are threats to nuclear security.
Military nuclear material, sufficient for thousands of weapons, remains outside of many international nuclear security mechanisms. Although there are still more than 10,000 nuclear weapons in the arsenals of nine states their security has not been part of the NSS process.
Nuclear knows no borders and the public needs to be better acquainted with risks that are avoidable to protect their safety. Better informed journalists are vital to the task and AR will be offering journalists support globally to help them tell the story. Safety and security are inseparable.
Peter Rickwood is the Executive Director and founder of Atomic Reporters.