Take part and
Gain deeper insight into nuclear arms control and nuclear safety
Learn about today's nuclear challenges
Comprehend the dynamics of nuclear diplomacy
Visit international organisations in Vienna
Shape an alumni network
Make new friends from around the world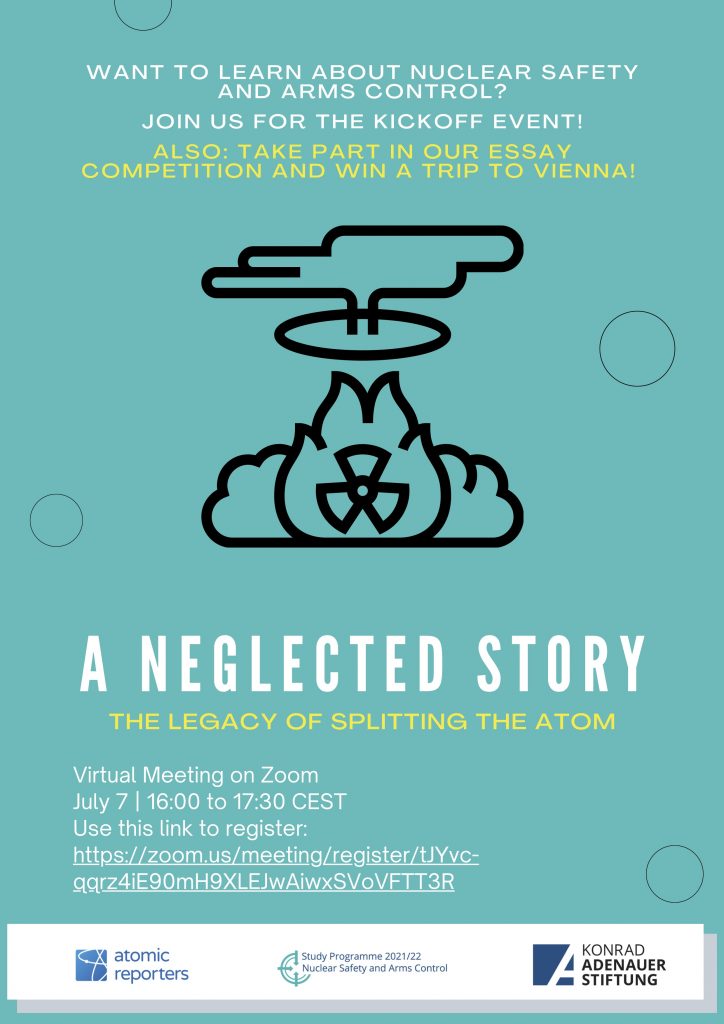 Join us for the kick-off meeting of the first study programme
of the Konrad-Adenauer-Foundation Multilateral Dialogue
in cooperation with Atomic Reporters!
When: Wednesday, 7 July 2021
16:00 – 17:30 CEST
Where: https://zoom.us/meeting/register/tJYvc-qqrz4iE90mH9XLEJwAiwxSVoVFTT3R
After registering, you will receive a confirmation email with information about how to join the meeting.
The study programme will consist of six online seminars interspersed with online learning modules examining the many facets of nuclear technology and science, from weaponization to peaceful energy uses, and from medicine to industrial uses that are part of our daily lives. A key focus will be on the role of fission in the world's security architecture, from its discovery to today.
This call is open to applicants below 35, professionals, diplomats, journalists, scholars, students, who
would like to gain deeper knowledge of nuclear topics and arms control. Altogether 25 applicants will be selected to participate in the study programme on the basis of an essay competition. Essay winners will take part in an all-expense paid four-day dialogue programme in Vienna, Austria, home to several UN organizations, in June 2022. More details on the essay competition will be made available at the kick-off event on Wednesday, 7 July 2021.
For more information on the event and the essay competition, click here.
We are looking forward to hearing from you!
For further information, please contact E: info.vienna@kas.de T: 0043 1 890 14 65 13