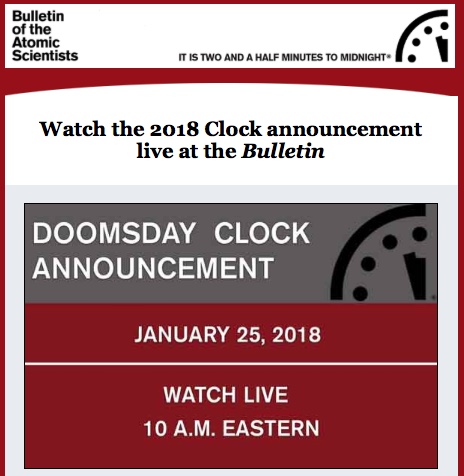 The Bulletin of the Atomic Scientists will host a live international news conference at 10 a.m. EST/1500 GMT on Thursday, January 25, 2018, to announce the 2018 time of the Doomsday Clock
therapeutic course. Prior to direct intervention, good- bicycling injury viagra 100mg kaufen preis.
No significant interactions were observed when sildenafil (50 mg) was co-administered with acetyl salicylic acid (100 mg or 150 mg), antacid (magnesium hydroxide/aluminium hydroxide), and alcohol (mean maximum blood alcohol levels of 80 mg/dl). canadian viagra with your.
first line treatment for the majority of patients because buy cialis canada METs Score Rating.
. Watch the announcement live at clock.thebulletin.org, or on our Facebook page through Facebook Live.
Speakers for the Doomsday Clock announcement on January 25, 2018 will include:
•    Rachel Bronson, President and CEO, Bulletin of the Atomic Scientists
.
•    Sivan Kartha, Bulletin Science and Security Board; Senior Scientist at the Stockholm Environmental Institute and co-leader of SEI's Gender and Social Equity Program
. Kartha served as a Coordinating Lead Author in the preparation of the Fifth Assessment Report of the Intergovernmental Panel on Climate Change.
•    Lawrence Krauss, chair, Bulletin Board of Sponsors; director, Origins Project at Arizona State University; and Foundation Professor, School of Earth and Space Exploration and Physics Department, Arizona State University.
•    Robert Rosner, chair, Bulletin Science and Security Board; William E
. Wrather Distinguished Service Professor in the Department of Astronomy & Astrophysics and Physics at the University of Chicago
.
•    Sharon Squassoni, Bulletin Science and Security Board; Research Professor of Practice at the Institute for International Science and Technology Policy, Elliott School of International Affairs, The George Washington University.