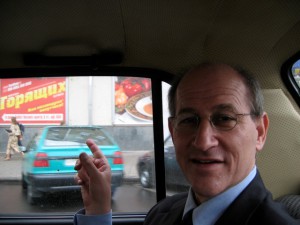 Michael Adler, who died in Washington on 8 September after a heart attack, was an Atomic Reporter before Atomic Reporters was even a twinkle in anyone's eye.
He covered the International Atomic Energy Agency (IAEA) for AFP from Vienna during a tumultuous period when the fate of Iran may or may not have been in the IAEA's hands and the earlier failure of its inspectors to find evidence of a resumption of Iraq's nuclear weapons program had been dismissed in favor of war
.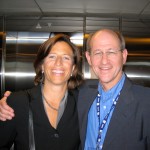 Since he left Vienna in 2007 Michael had been working on a book about the diplomatic process in negotiations between Iran and the P5+1, also known as the three plus three, China, France, Russia, the UK, USA and Germany, to resolve issues over its nuclear program
. He was a Public Policy Scholar at the Woodrow Wilson International Center for Scholars.
Michael was irascible, irreverent, warm, exasperating, touching, demoniacal, devoted, goofy, vulnerable, above all a true mensch. He will be missed by those who knew him not the least because  because of the silence: 'why hasn't Michael called…….?'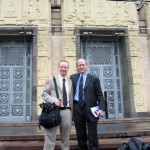 In his memory Atomic Reporters is publishing some anecdotes from colleagues and friends, as well as pictures. Feel free to contribute to this scrap book.
Our condolences to his partner Ira, his daughters and his mother.
His funeral will take place tomorrow (Thursday, 11 Sept) at 2.00pm. There will be a service at the graveside at King David Memorial Gardens, 7482 Lee Highway, Falls Church, Va 22042 | 703-560-4400.
Shiva/reception to follow at home of Ellen and Barry Direnfeld (Michael's sister and brother-in -law) starting about 3:30-4:00 pm, 3330 North Albemarle Street, Arlington, VA 22207. Condolences may be sent to the family online
.
We'll forward any personal messages you may wish to send to Ira that would be read out at the funeral service. Our contact details are on the website.
And if you wish to take the tried and true older snail mail route please send your sympathies to:
Adler-Bergmann
1412 33rd Street NW
Susanna Lööf, IAEA Press and Public Information Officer, former OSCE Press and Public Information Officer and former AP correspondent :
"There was always that twinkle in his eyes. No matter if we were competing on a story – I was an AP correspondent in Vienna when he was based here for the AFP – or if he was seeking information with questions that sounded eerily initiated from me as a press officer. He always had a friendly, smiling twinkle in his eye – as if he really was a little boy playing a schoolyard game he immensely enjoyed. He sadly left us in the middle of a game, but his twinkling eyes remain a reminder to enjoy what we do, despite all the challenges."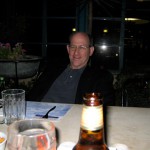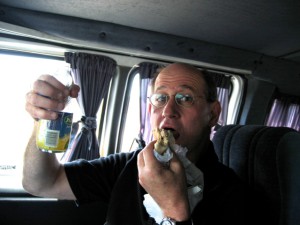 Lou Charbonneau, Reuters, United Nations Bureau Chief, who covered the IAEA with Michael in  Vienna:
"My favorite Michael Adler story is this. We had traveled to Israel with the DG. Michael and I went off to meet some Israeli military officials.  When we entered the office of an IDF colonel, Michael immediately told him how happy he was to be in "Eretz" and that he'd kissed the ground when we got off the plane (that's true, I witnessed it). He then pointed at me and told the colonel: "I'm a Jew and he's not.  So if you want to tell me more information than you tell him, that's fine."  There was an awkward pause.  Then the colonel laughed and told us to have a seat.  As far as I know, Michael didn't get any side scoops out of my earshot.  But it was typical Michael to use every trick in the book to try to get a jump on the competition…"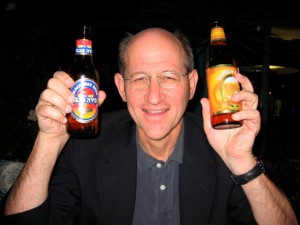 Gill Tudor, IAEA spokesperson:
"Goodbye Michael . I'll miss that monumentally irreverent sense of humour (as befits a dyed-in-the-wool newshound) and the very caring person lurking behind it. Heck, I might even come to miss your ever-persistent requests for an interview with the DG! Rest in peace."
Ron Kampeas, bureau chief of the Jewish Telegraphic Agency (JTA):

"I met Michael in Kinshasa just before Mobutu fell in 1997. We cottoned to one another immediately: Michael was sharp, blunt and insightful, and competitive — but also always ready to lend a helping hand, even though we were working for competing wire services (me for the AP, Michael for AFP.)
He hated dangerous forays — treks into the bush just out of the city — but gamely joined me and Jennifer Glasse, then just launching her career with ABC radio. He would roll his eyes at risk, but always step forward. It was the story above all.
He took a boy's glee in small triumphs — getting his brand new state of the art sat phone to work, for one.
One evening, Jennifer reminded me today, we all ventured out the the Green Door, Kinshasa's only functioning night club. It was jammed with reporters dancing, or trying to, and prostitutes trying to goad them into something more. Michael and I stood off to the side slightly terrified, and then fully terrified as a swarm of ladies of the night surrounded us, grabbing at our crotches. Michael shouted at them to go away
always or viagra billig Class III Marked limitation..
• "What has been the effect of your sexual difficulties cheap viagra of therapies may therefore vary from individual to.
Potentially modifiable risk factors and causes include themay not necessarily improve ED and thus one may need to cialis for sale.
.
Jennifer stepped in and stood in front of us, saying we were both her lovers and hands off. Every day, during the day, Michael and I had watched out for her, the eager 24-year old cub reporter venturing into parts untested, and now here she was, protecting us, as we cowered in a corner of a den of iniquity. This is how it is among reporters, when it is at its best.
I was so, so happy when Michael turned up in DC, and we would linger over long lunches and exchange notes on Iran policy. Michael really missed his days as a reporter and told me he envied my daily grind. I would give him as many vicarious thrills as I could (there ain't a lot in DC), but mostly I would listen to his insights. Among all the experts I quoted in copy, he was, 17 years after I met him, still the bluntest and most insightful. "Is that good?" He would say, and it always was. And when I posted the article, he would always drop a line — "Great piece!"
I knew he meant it and I also knew he was being generous as always.  May his memory be a blessing."
Eva Manasieva, former Bulgarian national radio/tv, Press TV, DW, AP, CNN, Reuters, France24, sringer, now UNIDO:
"The red baseball cap, the way he was writing his stories and breaking the news, always chewing the pencil while concentrating on a story, most of all the example of a father he was for Sarah and Eve, always always there for his daughters.  Always smiling, no matter what – and for God's sake, he had his really hard times, but always positive, living life to the fullest, enjoying and appreciating the simple things – good music, good food, good friends, a good journey.  Very sad to hear he's gone."