Watch the live feed of the NPT PrepCom meetings here.
Watch a webinar with Tariq Rauf on the NPT PrepCom process here (until 15 August 2023).
NPT PrepCom 2023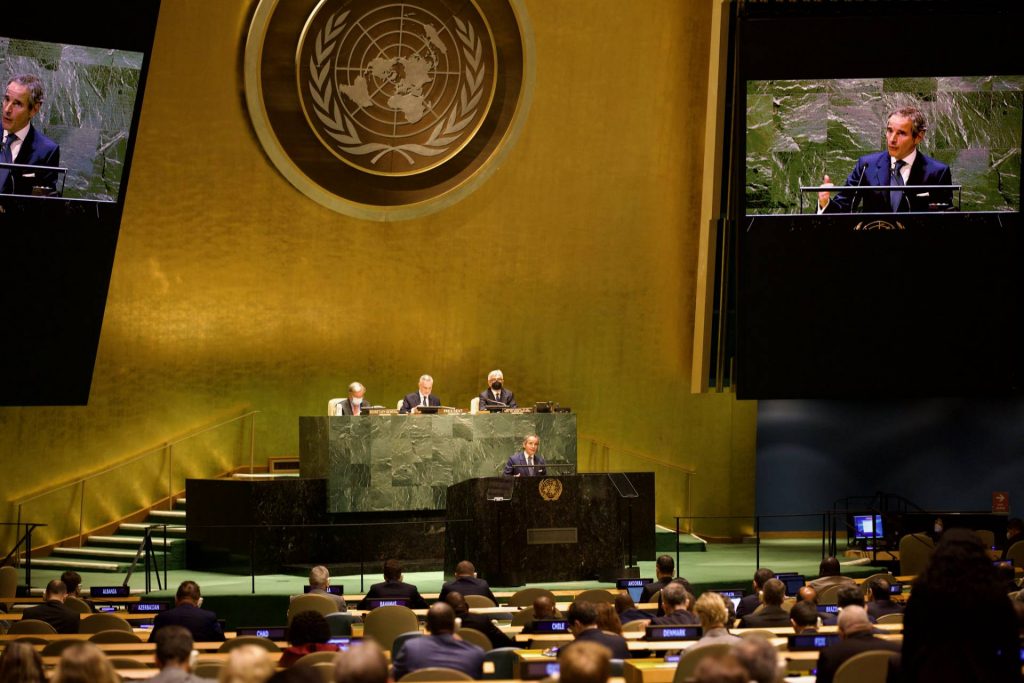 Even as the war continues in Ukraine, threats of use of nuclear weapons are rife, and nuclear arms control is teetering on the verge of collapse; more than 100 States shall be meeting at the Vienna International Centre, headquarters of the International Atomic Energy Agency and the Comprehensive Nuclear-Test-Ban Treaty Organization, from 24 July to 11 August 2023. They will start the preparations for the Eleventh Review Conference of the nuclear Non-Proliferation Treaty (NPT) scheduled for 2026. At the Tenth NPT Review Conference, held in New York in August 2022, the 151 States in attendance were unable to agree on a final document on the future of the NPT. This failure came on the heels of the failed Ninth NPT Review Conference held in 2015.
Atomic Reporters' Tariq Rauf* has prepared a "Comparative Assessment of Proposals submitted for the Working Group on the NPT review process", as well as a more detailed "Food for Thought paper" titled Finding Common Ground for the NPT PrepCom 2023 and Working Group on the Review Process. In this Food for Thought paper, which has been presented before diplomats in Geneva (May 2023) and in Vienna (June 2023), "Recommendations" are advanced on how States can work to strengthen the world's most important multilateral nuclear disarmament and arms control treaty.
The NPT is based on three pillars: nuclear disarmament; nuclear non-proliferation; and peaceful uses of nuclear energy. This Treaty is the most widely adhered to multilateral nuclear arms control treaty, with 191 States parties, that obligates the nuclear-weapon States to disarm. Today, only one arms reduction treaty remains between the United States and Russia, the New START treaty, but both sides have suspended its implementation since mid-2022.
The NPT PrepCom in Vienna will be an important venue for States to try to put the global nuclear disarmament and arms control regime back on track; and review nuclear non-proliferation, nuclear safety and nuclear security measures.
Background information on the modalities of the NPT review process as well as on the lessons and modalities for success in 1995, 2000 and 2010 review conferences by Ambassador Jayantha Dhanapala (President of the 1995 NPT Review and Extension Conference) and Tariq Rauf (former Alternate Head of the IAEA NPT Delegation) is available here.
*Tariq Rauf, is former Head of Verification and Security Policy Coordination, Alternate Head of the NPT Delegation, at the IAEA; he has been an official delegate at all NPT meetings since 1987, at the 2014-2015 NPT meetings he was senior advisor; he was a member of the Expert Group for the Substantive Advancement of Nuclear Disarmament convened by foreign minister of Japan; and was closely involved in drafting the strengthened review process in 1995/2000.
Video, discussions statements and comments
---
Tenth NPT Review Conference discussions with Ambassadors Zlauvinen, Kmentt, Krois, Denissen, Viinanen, Markovic and Lulashnyk, organized by Atomic Reporters in collaboration with the Konrad Adenauer Stiftung Vienna Office Multilateral Dialog, can be viewed here:
---
---
---
---
Documents for download
Food for thought paper: Finding common ground for the NPT PrepCom 2023 and the Working Group on the Review Process
By Tariq Rauf
---
Presentation: NPT PrepCom 2023 | Preparing for NPT PrepCom Session I (Vienna): The Strengthened Review Process for the NPT
By Tariq Rauf
---
Assessment of Proposals
By Tariq Rauf